| | |
| --- | --- |
| Wednesday | September 12, 2018 | |
---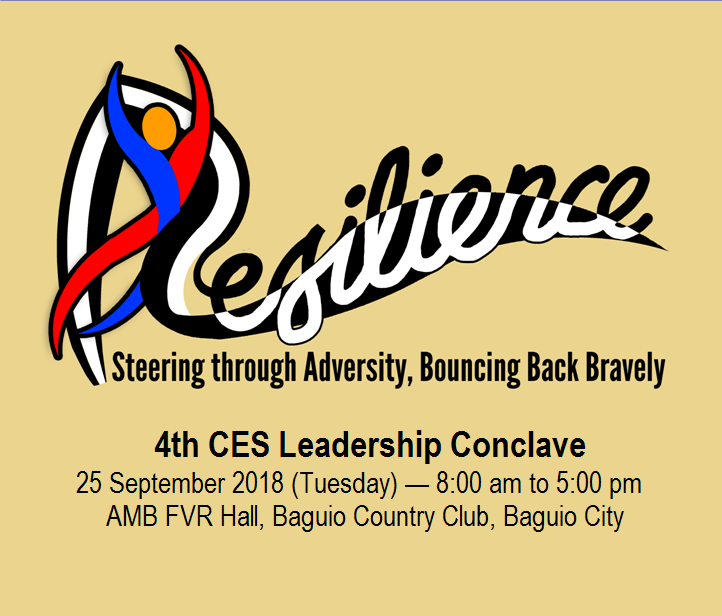 Resilience is defined as the ability to overcome and steer through challenges and failures; the skill to persevere and adapt when things go awry; and the capacity to bounce back when adversity strikes.
This essential leadership quality is up for discussion on 25 September 2018, as the Career Executive Service Board (CESB), in partnership with the Cordillera Association of Regional Executives (CARE), brings the culminating session of the 2018 CES Leadership Conclave series to the AMB FVR Hall, Baguio Country Club in Baguio City. This event is open to all Career Executive Service Officers, Eligibles, and Third Level Non-Eligibles.
The year-round theme of "Resilience: Steering through Adversity, Bouncing Back Bravely" provides a fertile ground of inspiring stories that enrich the individual and collective leadership journeys of public managers.
For the fourth and final session of the CES Leadership Conclave, the CESB has invited the following luminaries to share and inspire everyone with their stories of resiliency:
Plenary Learning Session 1
Resilience through Financial Freedom by Ms. Maria Anthonette C. Velasco-Allones
Tonette has earned the distinction of being the first and only recipient of the prestigious Ten Outstanding Young Men award in the field of HRD in government service in the Philippines. Her session highlights the importance of financial freedom as a resilience essential. In this session, she will discuss financial fundamentals, practical financial planning and share budgeting tips to become financially stable and secure.
Plenary Learning Session 2
Rising from the Rubble: Earthquake Survivor Turned Resiliency Champion by Ms. Sandra Sanchez Montano
Sandy was trapped under the rubbles for three (3) days during the 1990 Killer Earthquake in Baguio City. Since then, she has been championing occupational health safety, risk reduction, business continuity resiliency, and sustainable livelihood program not only in the Philippines, but throughout the ASEAN and the APEC 21 Economies, winning awards and distinctions along the way. Sandy was also among the 100 Most Influential Filipina Women in the World in 2017.
Plenary Learning Session 3
Shared Leadership: Identifying a Common, Compelling Purpose for Unified Growth by Dr. Enrique A. Tayag
Dr. Tayag, Officer-in-Charge of the Office of Assistant Secretary for Policy and Health Systems and also known as "The Dancing Doctor", will focus on the importance of aligning and communicating organizational purpose, for it frames the foundation of the organization's success.
Plenary Learning Session 4
Standing Gallantly for the environment: The Mt. Diwalwal Experience by Ms. Ruth Manigos-Tawantawan
The decades-old Mt. Diwalwal mining conflict has been dividing the country and compromising its natural resources for the longest time. Know more about Ms. Tawantawan's adversities and how she overcame them as she pursues her agency's mandate to conserve the country's environment and natural resources.
Plenary Session 5
Delivering Efficient Public Service amidst Adversity by Dr. Julius A. Lecciones
"Being challenged – sometimes severely – is part of what activates resilience as a skill set. The most resilient individuals are not the ones that don't fail, but rather the ones that fail, learn, and thrive because of it." Find out how this mantra got Dr. Lecciones through outpours of criticism and backlash and still deliver efficient public service which is what the Philippine Children's Medical Center is known for.
A minimal Registration Fee of Two-Thousand Pesos (PhP 2,000.00) shall be charged per participant: 1) to be paid at the secretariat upon registration on 25 September 2018, or; 2) which may be deposited in advance to the CESB's Land Bank of the Philippines (LBP) Commonwealth Branch current account number: 0622-1022-34. A copy of the validated deposit slip or Advice to Debit Account (ADA) must be emailed to pdd@cesboard.gov.ph or faxed to (02) 952 0335. The registration fee may be charged to agency/office funds since the conduct of and attendance in CESB trainings, workshops, and conference are exempted from the provisions of Administrative Order No. 103, dated 31 August 2004.
Full attendance in and completion of the CES Leadership Conclave earns eight (8) training hour credits. Please accomplish the Registration Form and send it via email to pdd@cesboard.gov.ph or via fax at (02) 952 0335. For queries, you may call the Professional Development Division (PDD) at (02) 366-1979 (DL); 951-4981/ 85/ 88 (TL); locals – 108, 113 and 127.
See you at this very important CES event!
Download Registration Form
Register Online