---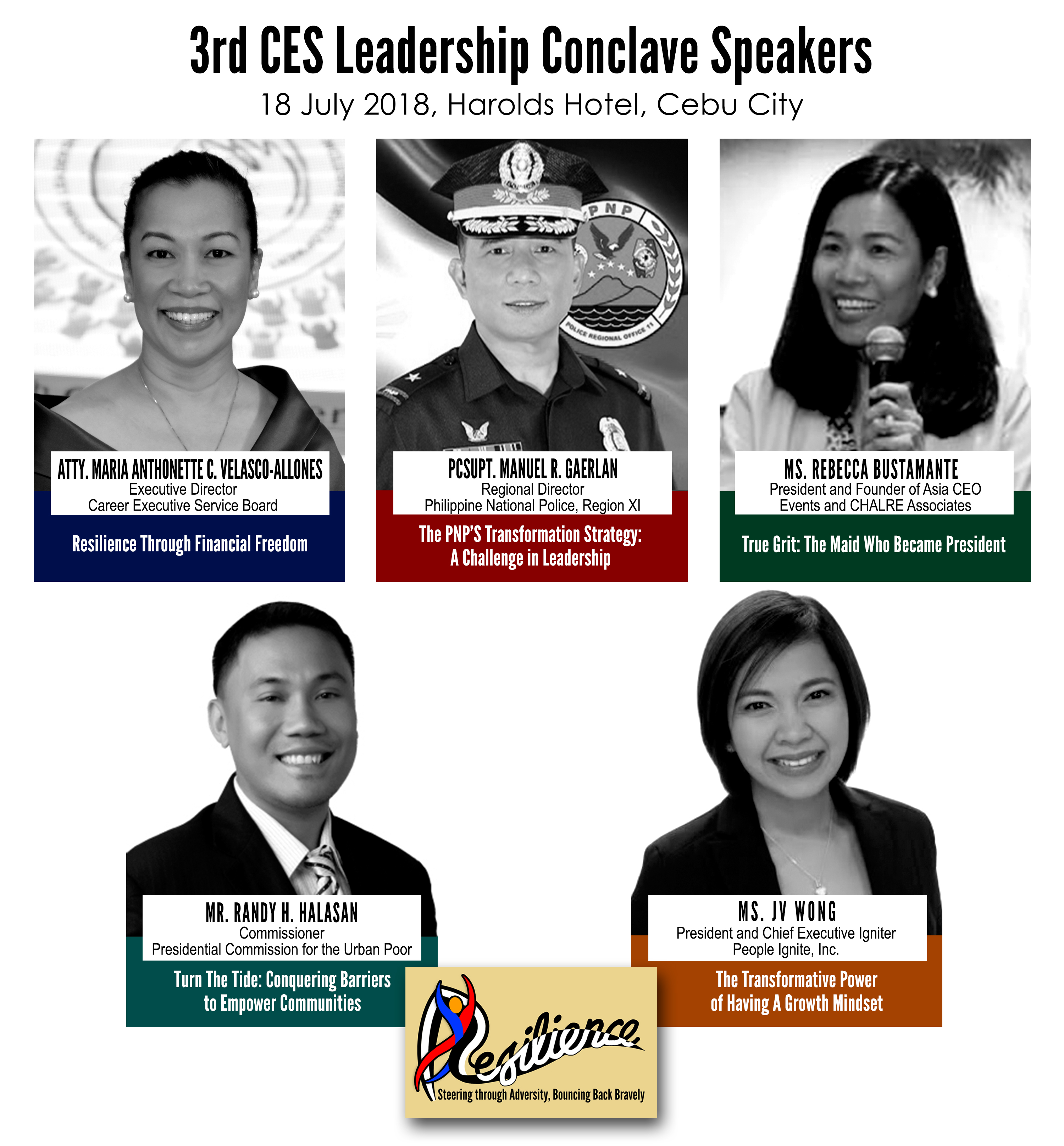 What is a common quality behind successful leaders? It's resilience - the quality that allows a person to rise back up after stumbling from adversity. It is the getting back up, the bouncing back better and stronger than before that makes all the difference.
Know more about this essential leadership quality and how to harness it on 18 July 2018, as the Career Executive Service Board (CESB), in partnership with the Association of Regional Executives of National Agencies in Region VII (ARENA VII), brings the third session of the 2018 CES Leadership Conclave series at Harolds Hotel in 146 Gorordo Avenue corner Rosal Street, Lahug, Cebu City. The CES Leadership Conclave is open to all Career Executive Service Officers, Eligibles, and Third Level Non-Eligibles.
The year-round theme of "Resilience: Steering through Adversity, Bouncing Back Bravely" provides a fertile ground of inspiring stories that enrich the individual and collective leadership journeys of public managers. For the third session of the CES Leadership Conclave, the CESB has invited exemplary leaders who will share the countless obstacles they have encountered, the life lessons they have learned in the process, and the legacies they have built.
The inspiring line-up of speakers and topics for the third installment of the CES Leadership Conclave are as follows:
Plenary Learning Session 1
Resilience through Financial Freedom by Ms. Maria Anthonette C. Velasco-Allones
Tonette has earned the distinction of being the first and only recipient of the prestigious Ten Outstanding Young Men award in the field of HRD in government service in the Philippines. Her session highlights the importance of financial freedom as a resilience essential. In this session, she will discuss financial fundamentals, practical financial planning and share budgeting tips to become financially stable and secure.
Plenary Learning Session 2
Turn the Tide: Conquering Barriers to Empower Communities by Mr. Randy H. Halasan
Randy was a former public school teacher in far-flung Pegalongan Elementary School in Davao City. His hard work and dedication to serve the Matigsalug tribal community of Davao beyond the call of duty earned him the Ramon Magsaysay Award for Emergent Leadership in 2014. Early this year, he was appointed as Commissioner of the Presidential Commission for the Urban Poor (PCUP).
Plenary Learning Session 3
The PNP'S Transformation Strategy: A Challenge in Leadership by PCSupt. Manuel R. Gaerlan
PCSupt. Gaerlan, a well-decorated officer, is no stranger to challenges. Despite the odds and criticisms faced by the Philippine National Police, he continues head and heart strong towards fulfilling the agency's mandate to protect and serve the Filipino people.
Plenary Learning Session 4
True Grit: The Maid Who Became President by Ms. Rebecca Bustamante
Ms. Bustamante's life story is truly one of resilience. Coming from an impoverished family with 10 siblings, she made good on her mother's dying wish to take care of her siblings. From working as a domestic helper in Singapore to establishing her own flourishing company here in the Philippines, Rebecca's story of hard work and success has been featured in different media outlets.
Plenary Session 5
The Transformative Power of Having a Growth Mindset by Ms. JV Wong
For 16 years, JV has been igniting individuals and organizations through training, planning, and teambuilding facilitation, in the areas of personal development, leadership, communication, customer engagement, and career and growth coaching. But it's not just her professional success as chief executive that merits attention but also her personal story of surviving cancer and challenging herself to finish last year's Ironman 70.3.
A minimal Registration Fee of Two-Thousand Pesos (PhP 2,000.00) shall be charged per participant:
To be paid at the secretariat upon registration on 18 July 2018, or;
Which may be deposited in advance to the CESB's Land Bank of the Philippines (LBP) Commonwealth Branch current account number: 0622-1022-34. A copy of the validated deposit slip or Advice to Debit Account (ADA) must be emailed to pdd@cesboard.gov.ph or faxed to (02) 952 0335.
The registration fee may be charged to agency/office funds since the conduct of and attendance in CESB trainings, workshops, and conference are exempted from the provisions of Administrative Order No. 103, dated 31 August 2004.
Full attendance in and completion of the CES Leadership Conclave earns eight (8) training hour credits. You may register online or accomplish the Registration Form and send it via email to pdd@cesboard.gov.ph or via fax at (02) 952 0335. For queries, you may call the Professional Development Division (PDD) at (02) 366-1979 (DL); 951-4981/ 85/ 88 (TL); locals – 108, 113 and 127.
Find out how resilient you are at the 3rd CES Leadership Conclave on 18 July 2018. Kita kita lang ta sa Cebu!
***
Calling all CESOs and Eligibles! Everybody has a story of resilience to share. Tell us about your personal leadership journey, the adversities you grappled with and how you overcame them and the lessons and victories that you are now reaping. Send us your story of resilience, in 100 words or fewer – if it gets selected, CESB might invite you to share your experience in future CES events. Share your story and inspire fellow public managers, email us at pdd@cesboard.gov.ph!
Download Registration Form
Register Online